Former Bosnian Serbian commander Ratko Mladic has been sentenced to life in prison for genocide and war crimes during the Balkans conflicts over two decades ago.
The presiding judge of International Criminal Tribunal for the former Yugoslavia (ICTY) on Wednesday found that the 74-year-old general "significantly contributed" to genocide committed at Srebrenica.
Previous judgments already ruled that the massacre of about 8,000 Muslim men and boys in Srebrenica was genocide.
Judge Alphons Orie ruled that the perpetrators of crimes committed in Srebrenica intended to destroy the Muslims living there.
The judge also ruled that Mladic carry out and personally oversaw a deadly campaign of sniping and shelling in Sarajevo.
Bosnian Serb wartime general Ratko Mladic appeared in court the receive the verdict [Peter Dejong/Reuters]
Mladic, dubbed the "Butcher of Bosnia", was accused of 11 counts – including genocide, war crimes and crimes against humanity committed by his forces during the war in Bosnia from 1992 and 1995.
The court said, however, it was "not convinced" of genocidal intent in six other municipalities, in line with previous judgments.
The former general initially appeared relaxed as he listened intently to the verdict but was later removed from the courtroom after he shouted at the judges when he was refused an adjournment.
His lawyer said Mladic needed a break for treatment of high blood pressure.
Wednesday's verdict was long awaited by tens of thousands of victims across former Yugoslavia, and dozens gathered early outside the courtroom in The Hague, many clutching photos of loved ones who died or are among the 7,000 still missing.
Mladic's trial was the last before the tribunal and came as the court in The Hague prepared to close its doors next month.
SOURCE: AL JAZEERA NEWS
---
__________________________________________________________________
_______________________________________________________________
Former Bosnian Serb commander Ratko Mladic has been jailed for life for genocide and other atrocities in the 1990s Bosnian war.
Known as the "Butcher of Bosnia", Mladic led forces during the Srebrenica massacre in 1995 and siege of Sarajevo in which more than 10,000 died.
The UN tribunal in The Hague convicted him on 10 of the 11 charges.
Mladic, 74, was not in court when the sentence was read out. He had been removed for shouting at the judges.
The judges had rejected a request by his lawyer to halt proceedings because of Mladic's high blood pressure.
Mladic had been on trial at the International Criminal Tribunal for the former Yugoslavia (ICTY) since 2012. His case is the court's last.
The massacre in Srebrenica left more than 7,000 Bosniak (Bosnian Muslim) men and boys dead, while more than 10,000 people died during the siege of Sarajevo.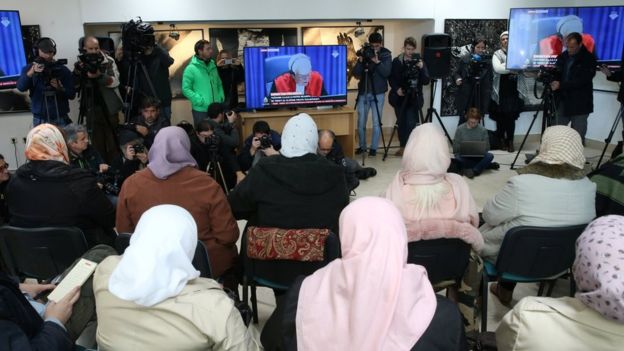 At the end of the war in 1995 he went into hiding and lived in obscurity in Serbia, protected by family and elements of the security forces.
He was indicted for genocide and crimes against humanity but evaded justice for 16 years. He was finally tracked down and arrested at a cousin's house in rural northern Serbia in 2011.
At the start of the session, Mladic appeared relaxed, smiling and gesturing to the cameras.
The verdict was watched by victims and their relatives in a memorial centre near Srebrenica, and followed by dozens of people who gathered outside the courtroom, carrying pictures of those who died or were still missing.
What happened at Srebrenica?
In early July 1995, Bosnian Serb forces besieged an area near the town of Srebrenica. It had been designated a United Nations "safe zone" and was being guarded by 600 lightly-armed Dutch UN soldiers.
The Serbs attacked from the south, prompting thousands of Bosniak civilians and fighters to flee north to Srebrenica. By 10 July some 4,000 had gathered there. The Serb advance continued, and a bigger surge of refugees fled north to the main Dutch base in Potocari.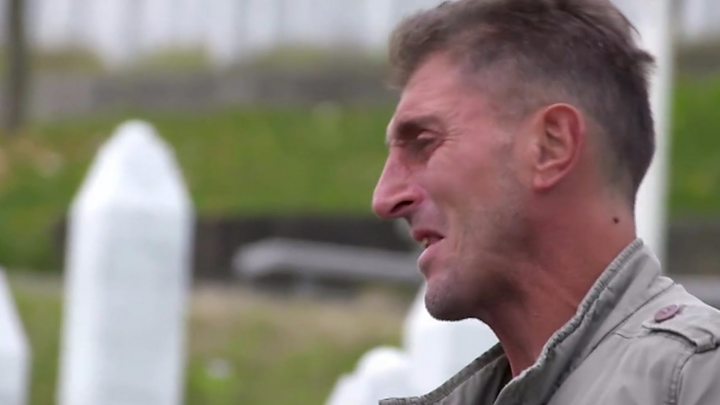 Gen Mladic summoned the Dutch commander, Col Thom Karremans, and demanded that the Bosniaks disarm to save their lives.
On 12 July, some 15,000 Bosniak men of military age broke out of the enclave. They were shelled as they fled through the mountains. Some were also killed after surrendering.
Buses then deported an estimated 23,000 women and children to Bosniak territory, while the Serbs separated out all males from age 12 to 77 for "interrogation for suspected war crimes".
Hundreds of men were held in trucks and warehouses.
On 13 July 1995 the first killings of unarmed Bosniaks took place in a warehouse in the nearby village of Kravica.
The Dutch peacekeepers handed over about 5,000 who had been sheltering at their base. In return, the Bosnian Serbs released 14 Dutch peacekeepers who had been held hostage at Nova Kasaba, a Serb base.
Over four days, up to 8,000 Bosniak men and boys were murdered by Bosnian Serbs at sites around Srebrenica.
What was the siege of Sarajevo?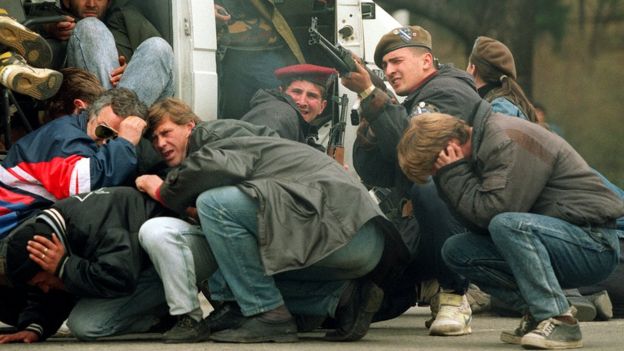 Civilians in the Bosnian capital endured a brutal siege in 1992-1995 at the hands of Bosnian Serb forces, who fired down into the city from the surrounding hills. The death toll was more than 10,000.
It was part of what prosecutors call a Serb "criminal enterprise" to spread terror among Bosniaks and Croats, and to drive them from areas claimed as Serb territory.