Prime minister Theresa May could be in contravention of the Bribery Act 2010. A leading QC has argued just that. And an examination of the law appears to show that May could have committed a criminal offence by 'bribing' Northern Ireland's Democratic Unionist Party MPs and, more recently, Labour MPs.
Contravention
Liberal Democrat Lord Thomas of Gresford QC is no legal lightweight. He's held a number of high profile posts, including Shadow Attorney General 2003-2006 and 2007-2010. He's a member of the House of Lords committee set up to examine the Bribery Act 2010.
In a letter to the Times published on 2 February 2019, Thomas accused May of committing bribery, referring to Section 1 and Section 2 of the Bribery Act 2010. Here's his letter in full:
PORK-BARREL BRIBES
Sir, The offer of cash subsidies to an MP for the benefit of his or her constituents provided the MP votes for the government's withdrawal agreement is a breach of section 1 of the Bribery Act 2010 ("May woos Labour MPs with cash to back Brexit", Jan 31, and letters, Feb 1). The MP party to such an agreement is in breach of Section 2. A minister who gives a financial or political advantage to an MP intending to bring about the improper performance of his or her duty to vote in good faith, impartially or in accordance with a position of trust, breaches Section 1. Receiving the advantage intending to act improperly breaches Section 2.
In deciding whether the casting of a vote has been performed improperly, the test of what is expected is a test of what a reasonable person in the UK would expect in relation to the performance of that public duty. If the government discriminated in favour of one deprived area against another on the basis of the vote cast by its MP, no reasonable jury would conclude in its favour. Pork-barrelling is a euphemism for corruption. It may be ingrained in the US, but the Bribery Act kills it in the UK. Another brief for the attorney general.
Lord Thomas of Gresford, QC
House of Lords
Fool's gold
With regard to May's apparent bribery of selected Labour MPs, Labour chair Ian Lavery said:
Any Labour MP seriously considering discussions with the PM should remember her record and that of her party going back generations. Quite simply, taking such a bribe would be fool's gold.
Labour MP David Lammy went on to accuse any of his colleagues who accepted the "bribe" as cowards: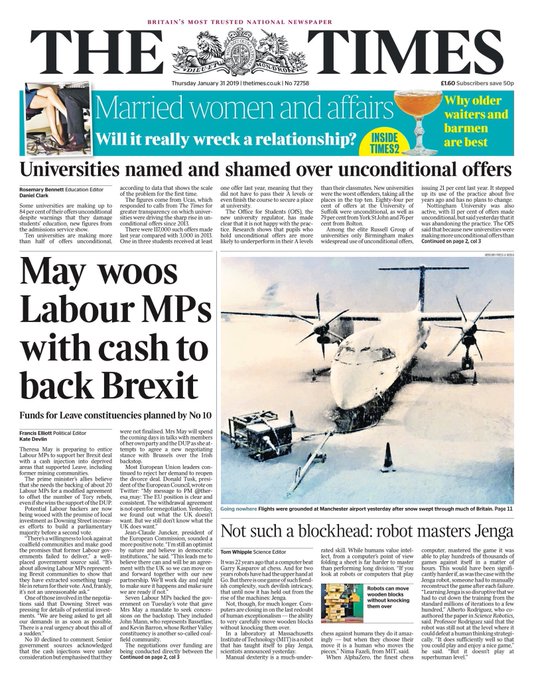 And Shadow Chancellor John McDonnell added:
The Conservatives introduced pork-barrel politics straight after the general election because they gave a couple of billion to the DUP just to secure their votes… I think it degrades our political system and to try and extend it in this way, I think it's dangerous for our democracy.
Brexit vanity
In June 2017 May also 'bribed' the DUP, despite its historical association with paramilitaries. She gave it £1bn as part of a 'confidence and supply' agreement, to ensure her government survives. A further £1bn was provided to the DUP in October 2018.
Brexit has become a vanity project to May. Indeed, it's clear May will do anything to push through a Brexit deal, no matter how bad it is. She'll do so regardless of the knock-on effects for people across the UK, as long as it ensures Conservative party unity.
Meanwhile Lord Thomas has made it clear that in his view the Attorney-General should now investigate May and her apparent contravention of the Bribery Act.
Featured image via Annika Haas – WikiMedia