On 28th August 2017 The Times published a story about a white Christian  child 'forced' into a (presumably) brown skinned Muslim family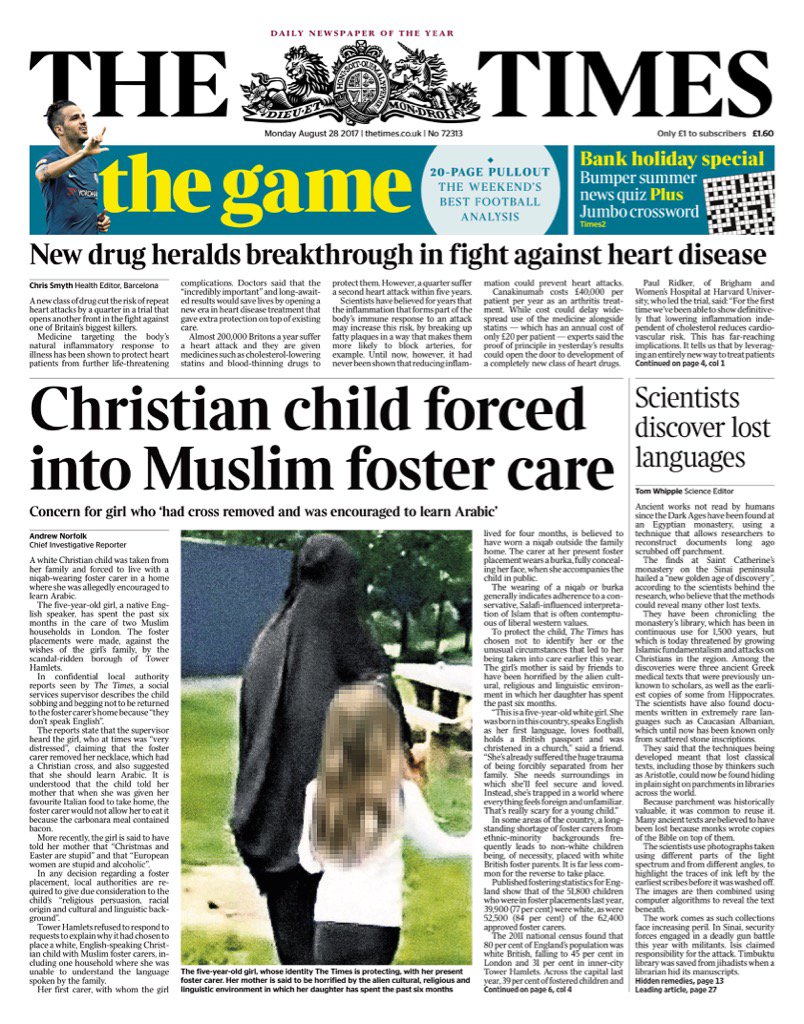 The prominent placement of this report on the front page with its eerie image of the little white girl being led away by a shadowy figure in full veil caused immediate unease to many, encapsulated in this comment by Jack Monroe on Twitter
So – whats the story?
Andrew Norfolk the Chief Investigator Reporter set out his concerns which I summarise here:
A white Christian child taken from family and 'forced' to live with 'niqab wearing foster carer
where she was 'allegedly' 'encouraged' to learn Arabic
the foster placements were made against the wishes of the girl's family
by the 'scandal ridden borough of Tower Hamlets'
in a 'confidential local authority report' nonetheless seen by the Times the child is described by a social work supervisor as 'sobbing and begging not to be returned' as her carers did not speak English
the child was distressed as she had to remove her necklace, which had a Christian cross, was not allowed to eat bacon and was told that Christmas and Easter were 'stupid' and European women were stupid alcoholics.
the child has had two placements with Muslim families; her first foster carer wore the niqab, the second the burka – which indicates that she is likely to be 'contemptuous of Western values'
The article goes on to say:
To protect the child, The Times has chosen not to identify her or the unusual circumstances that led to her being taken into care earlier this year.
This is a very odd thing to say. The Times does not have a 'choice' about whether or not it names vulnerable children who are subject to care proceedings (which I assume this child was/is given the reference to word 'forced' regarding her placement for the last six months). The Times is prohibited by law from identifying children who are still in care proceedings, which this child may well be – see section 97 of the Children Act 1989.  I would expect The Times to be aware of this simple fact; that it appears unaware is a matter of serIous concern.
For further information on what newspapers may or may not publish about care proceedings see our guidance note here.
However, this isn't my main cause of concern about this article. What so seriously shocked me (and many others) was the tone of the article, the language used and its clear narrative agenda that here we had a little girl deliberately subsumed into a Muslim family who denied her an identity and are attempting to force upon her their general contempt for Western society and its values.
I will start by saying that OF COURSE – if what has happened here is that a little girl is distressed and crying because she is placed with a family who don't speak English and who make derogatory comments about her own racial and cultural background then this is NOT A GOOD PLACEMENT. It should not have been made, it should come to a swift end and these foster carers should not be permitted to foster children without some further rigorous re-training.
But lets look at the language used here. 'Forced', 'allegedly' 'scandal ridden borough' 'contemptuous of western values'. Its not hard to discern the narrative of this piece and what the Times wants you to think about foster placements in general and this foster placement in particular.
The article comments
One aspect of the Tower Hamlets placement revealed today by The Times has, however, amazed experienced carers and the heads of fostering agencies who were contacted.
For an English local authority to choose to place a five-year-old child whose first language is English with a family who at home regularly converse in a different language would, they say, be staggering. It would also be unforgivably irresponsible.
However, the Times can apparently find no named individual prepared to articulate their 'amazement' at this state of affairs. And I note the interesting shift from the earlier comment that the child is distressed because her carers 'don't speak English' to the recognition of the more likely situation that her carers speak another language in addition to English and may well use that language in their own home.
I might also add it seems a bit odd that despite not speaking English to the little girl the family were able to attempt to indoctrinate her into thinking Christmas and Easter were 'stupid'. Possibly they did this with visual aids? Or the little girl was able in very short space of time to master sufficient Arabic to allow the brain washing to be effective.
It is indeed a concern, as the Times notes, that 84% of approved foster carers are white which reflects the racial identity of only 77% of children in foster care. Various 'recruitment drives' to increase the number of 'non white' foster carers do not appear to have improved the statistics.
This is likely to cause serious problems in areas like Tower Hamlets where only 31% of the population are white, compared to a national average of 80% across the country. Therefore, non-white children in areas such as Tower Hamlets may be more likely to end up in foster placements which don't reflect their racial identities or the religious persuasions of their parents.
Legitimate concerns used as fear mongering click bait?
I agree it is curious that Tower Hamlets were not apparently able to find a foster placement which was a better 'match' for this particular child's culture and identity. I agree it would be appalling if she was placed with a family that did not speak any English.
However, I simply don't have enough information in the Times article to be able to conclude that this is what did in fact happen or what informed this child's placement.
What I do have however is a front page article which appears to be a depressing example of an attempt to ferment suspicion about Muslims who are 'contemptuous' of the West and who are looking to brain wash little white Christian children.
This article is not merely a now depressingly familiar example of the typical 'social work bashing' pieces I have now come to expect from our tabloids (but I remain surprised and shocked that the Times is now joining in). We have seen the danger of this kind of journalism time and time again – its impact on recruitment and retention of social workers, its impact on politicians and policy makers – see Professor Ray Jones 'The Story of Baby P' if you want to delve further into that murky world.
But this article goes further than that. Its not merely 'bashing' social workers on 'allegations' and quotes from reports not cited, 'amazement' from anonymous sources – it has some horrible echoes of the propaganda of for example, Nazi Germany in the 1930s, which set out to demonise an entire religion. A common method promoted by Goebbels to encourage fear and hatred of the Jews was to portray them in crude cartoon caricatures as 'snatchers' of blue eyed Aryan children.
What better way to encourage people to hate but to tell them their children are at risk from a shadowy group of people whose religion and culture are very different ?
I have often complained that the 'debate' around the child protection system is inadequate. I did not dare to contemplate that it might actually turn into part of a propaganda campaign to encourage hatred of a religion.   No doubt the coming months and years will continue to show me just how much worse it's going to get.
---
3 Comments