Ellie Butler, who was killed by her father. 'Reporting of what went on in court may not have saved Ellie. But decisions that affect vulnerable children should not evade public view in the name of privacy.'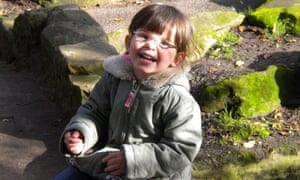 Photograph: Reuters
No reporter who heard Neal Gray tell the judge she would have "blood on her hands" if she returned his young granddaughter to her birth parents would have been able to publish his anguished warning. It was given as evidence four years ago against Ben Butler at an appeal heard by the family judge Mrs Justice Hogg. Hogg did return Ellie to her birth parents, and yesterday Butler was convicted of killing his six-year-old daughter in 2013.
In contrast to what happens in a criminal trial, which is held in public, journalists may not publish what goes on in front of a family judge. To do so is a contempt; the sanction is a fine and jail.
There is an almost total lack of transparency in family courts: cases are held in private, and witness evidence and judicial decisions are still, to all intents and purposes, secret. The intention is to safeguard individuals' privacy at what is likely to be at best an acutely embarrassing, and at worst, immensely painful time in their life. But a shocking lack of public scrutiny and accountability has become the end result.
The ban on reporting means decisions made by judges, as well as evidence given and processes followed – sometimes extremely poorly – by local authority social work departments in care cases, are simply not subject to any sort of scrutiny. Had Gray's warning been reported, together with the overwhelming witness evidence from the council, police and medical experts against Butler's fitness to be a parent, there would have been opportunities for significant public debate about the judicial decision that was reached.
As it was, the only version of events – and assessment of the quality of evidence given in court – that was allowed to reach the public domain was the ruling handed down by the judge. Reporting of what went on in court may not have saved Ellie. But grave decisions that affect the future of vulnerable children and entire families should not be allowed to evade public view in the name of privacy. Although there are difficulties, as I have discovered over 18 months of struggling to report on the family courts, it is possible to do so responsibly while including a great deal of detail in the public interest.
There are wider issues at stake too. When decisions are being made that affect a family's future for ever – such as non-consensual adoption, which is now driven by a significantly ideological policy push from the government – preventing detailed reporting becomes a convenient way for central and local government and the judiciary to avoid being scrutinised or held to account.
It will take thought, effort and resourcing to surmount hurdles to achieving better transparency in family cases. This must be done, because our ability to monitor decisions being made on behalf of the public has been eroded.
Landing at Newcastle airport last year, my barrister Lucy Reed and I turned on our phones to discover an email from the judge hearing my application to report on care proceedings that saw a baby removed at birth from his mother and her anguished struggle to get him back. The judge wouldn't, he apologised, be able to decide my application that day, as North Tyneside council, which wanted to block any mention of its name in my article, had not filed its paperwork in time for him to read submissions: he was now referring the matter to a high court judge.
A previous hearing had already been postponed. We now faced another six week wait. I was furious. It meant more delay, more expense and more work to convince my thankfully understanding but still somewhat worried editor that this court battle was worth pursuing. I was also praying that Reed, who was acting for me pro-bono, might be available and willing to fly north once again from Bristol to help me argue my case. We finally succeeded, with an order that allowed me to identify the council and quote from all the paperwork in the case. Crucially I was also given access to court audio which meant I could quote the judge's outrage at decisions that had unnecessarily delayed the by now nine-month old baby from being reunited with his mother.
But getting to that point required a court application fee of £155, five return flights, three weeks' upfront investment of my time, substantial legal expertise generously given by several family lawyers, and eight days of pro-bono support from a self-employed barrister.
Today, after all my efforts to report the family courts, I am angry, frustrated and dismayed that I may not write – and therefore readers may not know – about instances of unprofessionalism, malpractice or even downright lies that sometimes emerge on all sides.
A recent attempt at transparency has barely improved matters at all. In early 2014 the leading family judge Sir James Munby instructed circuit and high court judgesto publish in the public interest their judgments in public law (care cases) and private law (money decisions, child arrangements and domestic abuse injunctions), unless there was a compelling reason not to.
But though a few judges do publish the occasional ruling in cases they happen to be particularly exercised about, plenty still don't bother. Besides which, relying on a judge to decide what is in the public interest – when part of the problem in certain cases may be the way that the judge has managed and decided matters – is clearly not a satisfactory way to achieve transparency.
The family courts must be forced to open up. It may involve risking an element of privacy, in order to arrive at a judicial process that is able to withstand independent scrutiny and win public confidence. But it must be done, because the current system erodes our ability to monitor the decisions being made on behalf of the public. The question boils down to privacy, or open justice. Ellie Butler may well have been better served by the latter.