Precisely as I reported two days ago, Cameron really is in trouble over the Syria vote due to his patently ludicrous claim of the existence of 70,000 "moderate rebels". Most MPs are pretty unpleasant people, but they do have a high opinion of their own importance. They will vote for anything they see as in their own self-interest, but not if it means kneeling and licking the floor when they are being treated with very obvious contempt, in public. Well, a great many of them will even do that if it advances their career, and the George Osborne tendency do it in private and pay for it. But not even pretending to take MPs seriously is a risky tactic, and that is what Cameron has done with his foolish ruse of just inventing 70,000 moderate fighters.
Today the government rubbed MPs faces further in the dirt by saying they could not give a breakdown of who the 70,000 are, because it is a secret.
Yes, honestly. The identity of our allies – even just in terms of what groups they belong to – is a secret.
In consequence the Tory majority Foreign Affairs Committee has refused to endorse airstrikes. Cameron will be under real pressure to come up with a more intellectually tenable line by tomorrow. He can hardly enter the debate on the basis that the entire strategy depends on allies whose existence is secret. Or perhaps he can, on the grounds the Blairites are conditioned to support bombing anybody, anywhere, and the Tories are mere lickspittles. He may look down his long Etonian nose with contempt at the Commons, and think "the peasants will do anything I ask".
It is going to be an interesting 24 hours. The self-respect of the Commons is at stake. I still think Cameron may have overreached.
---
_____________________________________________________
_____________________________________________________
ALSO SEE: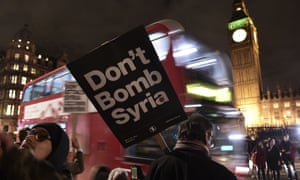 Foreign affairs committee vote comes amid row over PM's claim there are 70,000 moderate forces in Syria ready to fight Isis.
David Cameron's hopes of building a consensus behind military action against Islamic State in Syria has suffered a blow after parliament's foreign affairs select committee said he had failed to justify airstrikes.
The prime minister had made his case for military action in response to a critical report earlier from the committee, setting out what he claimed was a "comprehensive" approach to the crisis in Syria. The committee's Conservative chairman, Crispin Blunt, had already given his personal view that Cameron had gone far enough and indicated he would support military action.
But in a meeting on Tuesday, the eve of the Commons vote on military action, the committee voted four to three in favour of a motion that Cameron "has not adequately addressed concerns".
The vote came amid a row over Cameron's claim that there were 70,000-strong moderate forces in Syria prepared to fight Isis after a senior army general declined to confirm whether they included members of Islamist groups.
Lt Gen Gordon Messenger, the deputy chief of the defence staff, told the defence select committee earlier on Tuesday that national security concerns meant he could not say whether any of the 70,000 fighters were members of the Islamic Front and Ahrar al-Sham.
The remarks by Messenger, which were criticised by the Tory chairman of the committee, Julian Lewis, came as Jeremy Corbyn said the claim about the 70,000 forces was prompting some Labour MPs to think carefully about supporting military action.
Lewis interrupted Messenger, saying: "I'm sorry, General, I don't accept that at all. These groups are known to exist and the prime minister has come forward with a figure of 70,000 and he has obviously got a basis for that figure. There is nothing of a sensitive or classified nature about which of these known groups he is including in his total and which he isn't.
"As the prime minister is asking us to make a decision based in part on this idea that there is some democratic third force between the devil and the deep blue sea, as the government sees it of [President Bashar al-]Assad and Isil/Daesh, I think the public and indeed parliamentarians, before we vote, are entitled to know how are these 70,000 made up.
"There can't be anything possibly sensitive about which of the forces out there which are known to exist, such as the ones that make up the Islamic Front, whether they are included in the total or not."
Later, Louise Haigh, the shadow minister for civil service reform, said the government's national security adviser Mark Lyall Grant had told MPs at a briefing that 40,000 of the forces were radical Islamists. Haigh tweeted: "National Security Adviser confirms number of moderates on ground in Syria is 40,000 rest are much more radical Islamists."
Gavin Barwell, the Tory whip, said Haigh had misrepresented Lyall Grant. "That is NOT what he said," Barwell tweeted. Haigh tweeted in reply: "That's exactly what he said! Rest are 'radical islamists open to political activity'."
Downing Street said Haigh had mischaracterised the national security adviser.
Corbyn intensified the pressure on Labour MPs, who have been given a free vote, to support him in opposing the extension of RAF airstrikes against Isis targets from Iraq to Syria by saying they had "no hiding place". Labour MPs who support the airstrikes estimate they could have the support of 60 colleagues, though they say this could be reduced to 30 or 40 under pressure from the leadership.
Corbyn told Sky News: "I hope every MP will recognise tomorrow there is no hiding place on whipping or anything else, you have got to make up your own mind. But the important issue tomorrow isn't the process within the Labour party, it's David Cameron trying to take this country into a bombing mission in Syria, claiming there is an army of 75,000 people about to support – whose existence is questionable, shall we say, and whose membership is certainly more interested either in fighting Assad or in doing deals with other jihadist forces. It seems to me that we are stepping into something that is potentially very dangerous and rather unknown."
The cabinet has approved a 12-point motion designed to pave the way for Britain to extend its involvement in airstrikes on Islamic State targets. The motion, which is deliberately designed to reflect the motion passed by the Labour party at its conference in September, was approved unanimously by the cabinet at its weekly meeting, which was devoted entirely to Syria.
_____________________________________________________
___________________________________________________
Experts have described the idea that there are 70,000 moderates as 'magical.'
A large proportion of the alleged 70,000 "moderate" Syrian opposition fighters claimed by David Cameron are actually radical Islamists, it has been claimed.
Louise Haigh, a Labour MP, recounted that the Government's National Security Advisor had said in a briefing to MPs that more than 40 per cent of the fighters fell into this group.
Ms Haigh posted on Twitter after the briefing, which took place on Tuesday: "National Security Adviser confirms number of moderates on ground in Syria is 40,000 rest are much more radical Islamists."
___________________________________________________