London mayor had been expected to meet a youth group and businesswomen but Palestinian prime minister warned of a security risk.
A visit by Boris Johnson to the occupied Palestinian territories has been severely curtailed by his hosts in protest at a series of strongly pro-Israel remarks made by the Conservative mayor of London during his visit.
Johnson had been expected to meet with a Palestinian youth group, which cancelled its invitation after what it described as his "inaccurate, misinformed and disrespectful remarks" regarding the Palestinian-led Boycott, Divest and Sanctions (BDS) movement.
A meeting with businesswomen was also cancelled, and Johnson will also not attend an affordable housing event, although his delegation will be represented. His meeting with the Palestinian prime minister, Rami Hamdallah, will go ahead.
Johnson told reporters accompanying him that two of his three meetings had been called off by organisers after Hamdallah warned him that security "would perhaps be at risk" if they went ahead.
During his visit to Israel and the occupied Palestinian territories, Johnson pointedly criticised the Palestinian-led BDS movement – remarks that were picked up on social media and prompted concern that he might face protests.
During his three-day trade mission, Johnson repeatedly criticised calls for a boycott of Israeli goods, describing the campaign as "completely crazy" and promoted by a "few lefty academics" in corduroy jackets pursuing a cause.
The BDS movement was set up as a grassroots Palestinian initiative with widespread support in Palestinian society, although it also enjoys support from activists overseas.
Johnson was disinvited by the Sharek Youth Forum, which posted a statement saying it had refused to host the mayor as he "fails to acknowledge our very existence as Palestinians".
It said: "Following Johnson's inaccurate, misinformed and disrespectful statement regarding the Boycott, Divestment and Sanctions movement on 9 November, stating that he 'cannot think of anything more foolish', it is our conclusion, supported by the Palestinian youth that we represent, he consciously denies the reality of the occupation that continues to oppress them and all Palestinians.
"As Palestinians and supporters of BDS, we cannot in good conscience host Johnson, as a person who denounces the international BDS movement and prioritises the feelings of wearers of 'corduroy jackets' over an entire nation under occupation.
"In Johnson's own words, the 'only democracy in the region … a pluralist, open society' is one that oppresses citizens, confiscates land, demolishes homes, detains children and violates international humanitarian and human rights law on a daily basis."
The London mayor said he understood that his comments had been "very much whipped up" on social media. He told reporters he was pleased to be back in the West Bank but added: "It seems as though there's some anxiety about some meetings – they're worried about some of the safety aspects.
"There's some stuff going on on social media apparently, so rather depressingly we can't do the youth forum and one other meeting."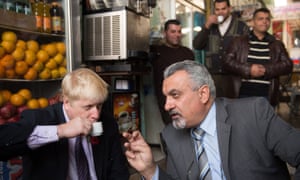 Reporters were later informed that Palestine Women's Business Forum meeting also off. Asked about the security threat, Johnson said: "The reality is we were determined to come here even though it's quite a difficult time at the moment and there's a lot of tension.
"I think that some people have obviously taken remarks I made about the boycott – which is, after all, British government policy – they've taken offence of that and that's been very much whipped up on social media. So we had a message from the office of the prime minister that the security with us was going to be perhaps at risk and so we've had to think about those meetings."
Johnson said he hoped they would go ahead but the current situation was that they would not. He went on: "If it's true people are making threats or whatever, that's very sad."
An upsurge in violence between Israelis and Palestinians in the last month has claimed 90 lives, including Palestinians involved in attacks on Jews.
Other remarks made by Johnson during his visit combined his usual flippancy with hyperbolic enthusiasm for Israel and patronising comments about "Arabs", not least in his inaugural Winston Churchill speech in Jerusalem.
He said in the speech: "If we look at the history of modern Israel there is no doubt that the comparison can be extended, and that there is something Churchillian about the country he helped to create. There is the audacity, the bravery, the willingness to take risks with feats of outrageous derring-do."
He added: "When [Churchill] wrote his 1922 white paper that paved the way for accelerated Jewish entry into Palestine, Churchill imagined Jews and Arabs living side by side, with technically expert Jewish farmers helping the Arabs to drive tractors."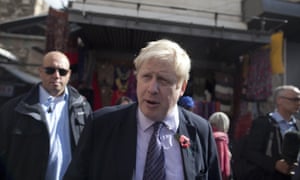 ___________________________________________________________________
---
Israel summons EU ambassador in protest after Brussels approves labelling on goods produced on occupied land.
The European Union has issued new guidelines for the labelling of products from illegal Israeli settlements in the occupied Palestinian territories, after years of deliberation and in the teeth of fierce Israeli opposition.
Binyamin Netanyahu, the Israeli prime minister, made a personal appeal to a number of key European figures in the runup to the decision, in which he said the plan was discriminatory, indicative of double standards, and would embolden those who seek to "eliminate" Israel.
Speaking in Washington DC after the guidelines were issued, he said the EU should be ashamed, and accused the bloc of punishing "the side that is being attacked by terrorism".
The measures will primarily cover fruit and vegetables and should affect less than 1% of all trade from Israel to the EU, which is worth about €30bn. EU officials said existing measures for produce brought into Britain have had no negative economic effect.
Israel sees the move as a political stigma that rewards Palestinian violence and will push consumers away. It immediately summoned the EU ambassador to Israel, Lars Faaborg-Andersen, in protest.
The Israeli foreign ministry said the EU has chosen "for political motives, to take an unusual and discriminatory step" at a time when Israel is facing a wave of terror.
In a statement, the ministry said it was "surprised and even angered by the fact that the EU chooses to implement a double standard against Israel, while ignoring 200 territorial disputes taking place today around the world, including within [the EU] or right on [Israel's] doorstep". The EU's claim that the decision was a "technical step" was baseless and cynical, the statement added.
Senior European officials insist that European consumers are entitled to know the source of goods previously labelled as Israeli. Israeli politicians – including Netanyahu – have made comparisons between labelling and the Nazi era, with some suggesting the move is immoral and antisemitic.
The proposal was also denounced by the Israeli energy minister, Yuval Steinitz, a close ally of Netanyahu, as "disguised antisemitism".
However, a petition signed by more than 500 prominent Israeli figures, including former ambassadors, Israeli prize winners, and former MPs, welcomed the measures.
Describing the guidelines as an important step that could help promote a peace agreement, the petition said: "This kind of distinction can also serve to reduce the current levels of tension, fear and despair, among both Israelis and Palestinians."
Despite insisting in public that the new guidelines provide clarity to consumers, European diplomats have privately made it clear the move is designed to put pressure on Israel over its continued settlement building in the occupied territories and the absence of a peace dialogue; a sharp rise in violence between Israelis and Palestinians has claimed 90 lives in the last month.
Announcing the new guidelines, a European commission official said it had "adopted this morning the Interpretative Notice on indication of origin of goods from the territories occupied by Israel since June 1967".
Although the new guidelines are expected to have little real economic impact, they do carry a political significance for Israel, not least because of the widespread agreement among European governments over their implementation.
The decision to push ahead with issuing the guidelines also marks the second major defeat in a year for Netanyahu on an international stage, following his defeat over the Iran nuclear accord, amid mounting evidence of Israel's growing international isolation.
On Tuesday, a letter leaked to the Guardian showed that Netanyahu had written or spoken to a number of senior European figures, including European parliament president Martin Schulz, asking for their help to block the move.
In a letter to Schulz, the Israeli prime minister said the move was politicised, adding that it could "lead to an actual boycott [of Israel], emboldening those who are not interested in Israeli-Palestinian peace but eliminating Israel altogether".
Since 2003, the EU has placed a numerical code on Israeli imports to allow customs to distinguish between products made within the Green Line and those that are produced beyond it. The UK adopted labelling guidelines for settlement products three years ago.
Now, however, consumers across the continent will be able to distinguish settlement products.
Two years ago, the EU delayed the publication of the guidelines at the request of the US, which was attempting to mediate a nine-month long peace negotiation process between Israel and the Palestinians. When that failed pressure mounted once again for labelling.
"There is no doubt that the main purpose of the measure is to exert political pressure upon Israel," said the Israeli foreign ministry. "As the preparation of the labelling guidelines has been pending for more than three years, the recent steps beg the question why the EU decided that it should be done now."
Israel's ambassador to the EU warned on Tuesday that there would be "implications" to the decision.
"Frankly this is extremely disappointing, it's unacceptable, and it's not going to be taken lightly in Israel – this will have implications," said the envoy, David Walzer. "We welcome EU contributions to the peace process – what comes tomorrow might force us to reconsider that. This cannot be described as business as usual or diplomatic disagreements," he said.
"This for us in Israel feels like we have been singled out for quasi-sanctions using economic tools for punishment."
---
Benjamin Netanyahu's government is furious about the change, claiming the plan will pave the way for the boycotting of all Israeli goods. Ben Lynfield visited the Ahava cosmetics plant in Mitzpe Shalem, one of the prime targets of the new regulations. 
The packaging on the Ahava cosmetic company's skin tone and texture-creating serum says it is made in Dead Sea, Israel, but Ahava's factory is actually in a settlement nestled below desert mountains in the occupied West Bank.
Through a display window in the visitors' centre there, workers in white coats and with their hair covered could be seen preparing cartons for shipment, with the EU a prime destination for Ahava products.
"It's neat to see people in action at the end of the production line," said Rotem Shahar, a private tour guide who was escorting visitors.
The European Union views things differently. Within the next few days it is expected to announce new guidelines requiring member states to affix labels that specifically identify Israeli products made in settlements, and thus distinguish them from those coming from Israel proper.
Although the precise wording of the labels has yet to be disclosed, "it will have to be clear it's coming from Israeli settlements", said David Kriss, an EU spokesman in Tel Aviv. He said the announcement was expected on Wednesday, although it was possible it might be postponed.
The government of Prime Minister Benjamin Netanyahu, which continues to expand settlements despite objections by the international community that they are illegal and scupper prospects for a viable Palestinian state, is furious about the change. It argues that Israel is being singled out unfairly and that labelling will pave the way for the boycotting of all Israeli goods.
"Our concern is that once you put a label on Judea and Samaria [the biblical names for the West Bank] you put a label on Israel," the Deputy Foreign Minister, Tzipi Hotovely, said in a recent interview with the Times of Israel website. "We see it as a boycott of Israel for all intents and purposes. We view it as a slippery slope. It's simply a sweeping disqualification of Israel."
A foreign ministry spokesman, Emmanuel Nachshon, added: "This will harm Israeli exports since consumers will not necessarily make the distinction and may not buy products that are not from the settlements. This smacks of a boycott of all Israeli goods."
We see it as a boycott of Israel for all intents and purposes. We view it as a slippery slope. It's simply a sweeping disqualification of Israel
He said the government would "express our opposition in a forceful way, and we will discuss measures by the Israeli side to show our displeasure".
In remarks in September after the European Parliament voted overwhelmingly in favour of labelling, Mr Netanyahu invoked events preceding the Holocaust. "The root of the conflict is not the territories and not the settlements. We have historical memory of what happened when Europe labelled Jewish products," he said.
The EU rejects claims that the measure amounts to a boycott and describes it as necessary so that consumers have accurate information on the origin of products. If something is made in a settlement industrial zone "and it is labelled 'made in Israel' we see that as misleading the European consumer," Mr Kriss said. He says the labelling reflects a long-standing position that "the settlements are illegal and cannot be considered part of Israel".
Mr Kriss described the labelling as a follow-up to a 2005 arrangement that required Israel to mark export certificates with the postcode of the originating factory, so that the products of settlements could be excluded from the tariff-free status granted to  products from Israel proper.
Martin Konecny, director of the European Middle East Project, a Brussels-based NGO specialising in EU policy towards the Israeli-Palestinian conflict, said: "Israel is not used to facing tangible consequences for occupation and settlement from its Western allies. It is used to rhetoric without action, and this is creating a shock."
He said it had taken the EU three years to prepare details of the new labelling system. "This is a step in a positive direction in reducing the gap between rhetoric and action, but it is also insufficient and overdue," he said.
But Bassem Eid, a commentator who is often a sharp critic of official Palestinian positions, said the labelling would cost jobs among what he estimates are 30,000 Palestinians with permits to work in the settlements. "The Palestinians are the first who will pay the high price for labelling. We are the losers, Israel is not the loser," he said.
According to Mr Konecny, exports from Israeli settlements amount to €230m a year, or about 2 per cent of Israeli exports to the EU and 15 times more than the EU imports from Palestinians. Britain instituted its own guidelines for labelling settlement products in 2009, followed by Denmark in 2012 and Belgium last year. After labelling was instituted, major retailers in the three countries adopted a policy of not importing products from settlements, Mr Konecny said.
Ahava, whose staff did not respond to requests to be interviewed for this article, closed its store in Covent Garden in 2011 after it became the focus of frequent pro-Palestinian protests and its landlord refused to renew its lease. While some Ahava products say they are "made in Israel", others say they are manufactured in "Mitzpe Shalem, Dead Sea, West Bank by Ahava Dead Sea Laboratories, Airport City, Israel".
Last June, the company said it was exploring the possibility of opening a factory in the Tamar Regional Council, south of the West Bank.
Mr Kriss said the current designation of "West Bank" on some Ahava packaging would probably be unsatisfactory to the EU and that under the new labelling regulations, it would be specified that the product was made in a settlement. "My instinct tells me it won't be sufficient," he said. "It has to be clear it is not coming from a Palestinian manufacturer."
---