Letter asking Conservatives to abandon party politics comes amid claim by Boris Johnson that George Osborne is already planning to revise proposals.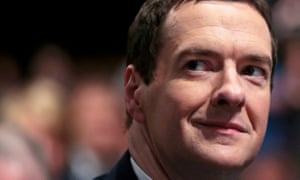 Labour has sent a last-ditch plea to Tory MPs to abandon party politics in Tuesday's Commons vote on tax credits, saying the issue transcends "narrow party lines" because "surely none of us came into politics to take money away from low and middle-income workers".
The letter from the shadow work and pensions secretary, Owen Smith, and the shadow Treasury secretary, Seema Malhotra, came amid claims by the mayor of London, Boris Johnson, that George Osborne is already planning to revise the proposals to cut tax credits first set out in the summer budget.
The letter says: "We now know that from April, around 3 million working families will lose an average of £1,300 per year. While one million single parents in work will be £1,000 a year worse off as a result of these cuts, and one and a half million married women will be £600 a year poorer.
"The changes will also result in 200,000 more children pushed in to poverty next year alone. Hundreds of thousands of self-employed workers who depend on tax credits do not stand to benefit from the increase in the minimum wage that ministers say will offset the tax credit cuts."
Peers are also considering passing what is known as "a fatal prayer" next Monday – a move being canvassed by the Labour peer Lady Meacher that would require the Treasury to rethink the proposals in their entirety.
Peers are discussing whether they would be constitutionally overreaching themselves by taking such a drastic step, and whether instead it should pass a less dramatic "regret" motion that has already been tabled by Lord Kirkwood, a Liberal Democrat peer.
If Meacher presses ahead with the fatal prayer but loses, Kirkwood could then table his his regret motion that merely requires the government to think again.
Pressure is also building inside the Conservative party with the news that the Bow Group thinktank has urged Osborne to slow the pace of the changessaying that they should be "implemented gradually alongside and proportional to the increase in the national living wage and the minimum tax threshold up to 2020".
Johnson has renewed his criticism of Treasury plans to cut tax credits, saying he was sure that the government would not want to do anything that would hurt the working poor. Osborne is due to meet Tory backbenchers over the issue on Monday night.
The chancellor will be furious that Johnson, the MP for Uxbridge and one of his likely rivals for the party leadership, is continuing to raise the issue at a time when Osborne is working hard to quell talk of a backbench revolt, and suggestions that he has made a political misjudgment on the scale of either the poll tax or Gordon Brown's 10p tax band.
Johnson said he was sure the Treasury was working on a proposal to minimise the impact of a change due to be implemented next April, even though the Treasury insists it is doing no such work.
Osborne believes the cuts to working tax credits are necessary to bring the deficit under control, and has produced figures to show it will be wealthier people on tax credits that will be most affected. The issue was thrown back into the headlines when a former Tory voter Michelle Dorrell appeared on BBC Question Time to claim she would not be able to make ends meet due to the cuts in tax credits. Subsequently it was claimed she would not lose any tax credits due to her low level of earnings.
Johnson took the position of supporting changes to tax credits while implying broadly the specific amendment was unfair. However, he did not produce an alternative policy.
Speaking on the's BBC World at One he said: "Everyone is concerned about something that bears down on the working poor. It is very important that as we take this thing forward we do so in a way as to minimise the impact.
He added: "Be in no doubt, the tax credit system as it stands cannot go on. The chancellor is completely right to want to reform. It is brave, it is right and we have a system now where loads and loads of people are facing the reality that they cannot work more than a certain number of hours a week.
"They find they have worked too much inadvertently, or they have been paid too much inadvertently and then the authorities demand they pay back really quite huge sums in extra tax credits they have received. It is very very painful and it is leading to all sorts of poverty traps, cliffs and we need to sort it out.
"I saw the pain and anguish of that woman on Question Time the other night and understand that completely but we have somehow or other reform this system.
"I am sure there is a way through that uses tax cuts, the living wage and other ways of helping people over the threshold and helping people to get through this. But somehow or other we have got to reform the tax credit system."
Asked if he favoured a specific tweak to the plans, Johnson said: "Let us see what they come up with. I am sure they are working on it now, and, believe me, we are all talking about it and this is something under very intensive review and consultation at the moment.
"I have no doubt people are looking at it very very hard right now, that as we reform the tax credits system we do so in such a way not to bear down too unfairly on the hard working people in London and elsewhere. I am sure that irrespective of the politics of it, no one wants to do something that is unfair to working people."
About 3.3 million families – 2.7 million of them with children – stand to lose on average £1,300 in the first year alone. The level at which working tax credit starts to be withdrawn will fall from £6,420 a year to £3,850. The level at which child tax credit begins to be taken away will fall from £16,105 to £12,125.
The taper rate at which tax credits are withdrawn will rise from 41% to 48%. On top of this, the child element of tax credits will be limited to two children, and tax credits will be frozen for the duration of the parliament.
Labour has claimed as many as 70 Tory MPs in marginal seats will know they face losing their seat of the backlash grows, but it made similar claims about 60 Tory MPs in 2012, and only six of the named 60 went onto lose their seat in the 2015 election.